As I have to rest after an intense week, full of conferences and sickness, I post my recap about the Symfony Live, what I liked and what I didn't.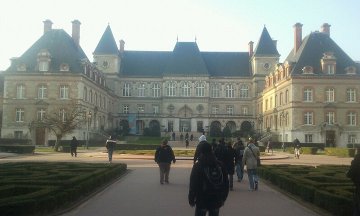 The whole picture isn't that good but, after all, I however enjoyed the event, which has been attended by, I think, something like 500 people.
For me, it was the first time is Paris and, generally, France, so I could also appreciate a – seems – great culture.
At lunch
We had really awful moments at lunch: in 2 days, 2 sandwiches and a catering level non that good.
That wasn't a big problem: in such this kind of conferences what we eat is not so important, but it would give the event a real plus.
Fabien keynoting
Ah, another bad moment, and I'm not referring to the technical problem the presentation had: being there, with probably the most wanted session, with no slides, had been an awful decision.
The whole talk has not been so involving, so I was a bit disappointed by this so expected moment.
The talks
Something went fine, something really bad: HTTP cache by Fabien was really awesome, as Twig's presentation from Ryan Weaver, but – practically – all the other speakers ( excluding a couple of minors ) weren't able to catch my attention: the level of their talks wasn't the expected one.
This Symfony Live wasn't so technical: I tought I had the opportunity to learn far more than what I actually learned.
The level
Apart some really disappointing talks, I was pleased to have the opportunity of listening people like Wage and Weaver, and – obviously – Fabien too.
There was a lot of quality-people at the Symfony Live, and meeting such this kind of developers is not usual.
Parties
I wasn't able to attend the first day party, nor GitHub's one the day after, but I'm pretty sure they gave the partecipants a lot of fun: it's really great that fun plays a primary role at this events.
The location
A really cool one, but everything got screwed up when we saw the rooms: a gigantic one for the first track, an awfully small one ( 30 people ) for the second track.
I gotta admit that I renounced to follow a couple talks because there was no space in the second room!
Unconference
Although I didn't attended any talk of the unconference track I really like when this initiatives happen: really thank to Stefan Koopmanschap for the effort; my friend Jacopo had the opportunity to give a 10-minutes talk.
A HTML fragments specification
I had the opportunity to talk with Fabien for five minutes: my aim was to ask him support for one of the things I do really care a lot, a specification for the HTML fragments media type, possibly including also the ESI specification inside it.
Next year?
I don't know if I'll be at the Symfony Live 2012: it will totally depend from the schedule that will be published.
But, after all, we all should really thank the organizers: a conference is never easy to plan and manage, and they did an awesome job since months.