I know, I'm a month late, but I need to publish a report about this amazing conference which took place in Antwerp, Belgium, in January 2011.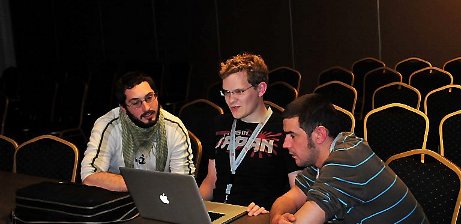 It has been one of my favourite conference, and the reasons for such this kind of evaluation are multiple: I try to summarize them here.
The talks
This is probably the conference in which I did the rightest moves: almost every talk I attended impressend me so much.
Here's the list:
27 ways to be a better developer by Ivo Jansch & Lorna Mitchell, a good keynote focusing on real life experience and a few commonly forgotten tips
Technical Debt by Elizabeth Naramore, a really cool talk about real life approaches to technical debt
Project triage & recovery by Keith Casey, about dealing with technical debt in an OS project
Benchmarking applications and frameworks by Paul M. Jones, dealing with the right approach during applications benchmarks
Charsets and encodings by Kore Nordmann, in which I learned a lot about a problem I've never faced but… …who knows…
XML vs The new kids on the block by David Zuelke, a really coll comparation between XML, JSON, HTML5 and YAML, with pros and cons for all of them: contextualization was the leit-motif
Designing HTTP interfaces and RESTful webservices by David Zuelke, a f****** awesome talk, and, have to say, the greatest speaker I've ever encountered
Geolocation and maps with PHP by Derick Rethans, pretty boring talk about a cool topic
Zeta Components by Tobias Schlitt, presenting the Apache project and giving some code examples which turned the crowd on
The organization
Really awesome.
We had great lunches, an awesome dinner offered by Facebook and almost everyday a free bar.
:–)
The location they choose was ok and the talks organization really pleasant.
The bowling night
I should tell a lot about that night, but I'd rather keep some details with those who were there :–)
We had free ber offered by GitHub and a bunch of bowling lanes reserved for the conference attendees.
It was also cool because at this conferences speakers tend to aggregate with theirselves: at this one we had he opportunity to bowl together.
The italian crew
Yes, the cool guys.
I've been there with other italian fellas, and we probably were the farest guys from home (except from a few speakers ).
Really great time spent together, and I also appreciated Michelangelo Van Dam, one of the organizers, thanking us, while smoking a cigarette, for coming there.
Definitely going there in 2012.
There is one more thing…
Cirpo's beer spill. Amazing.